STRATEGY: PEAK
Why November is too late to launch your Google Ads Peak strategy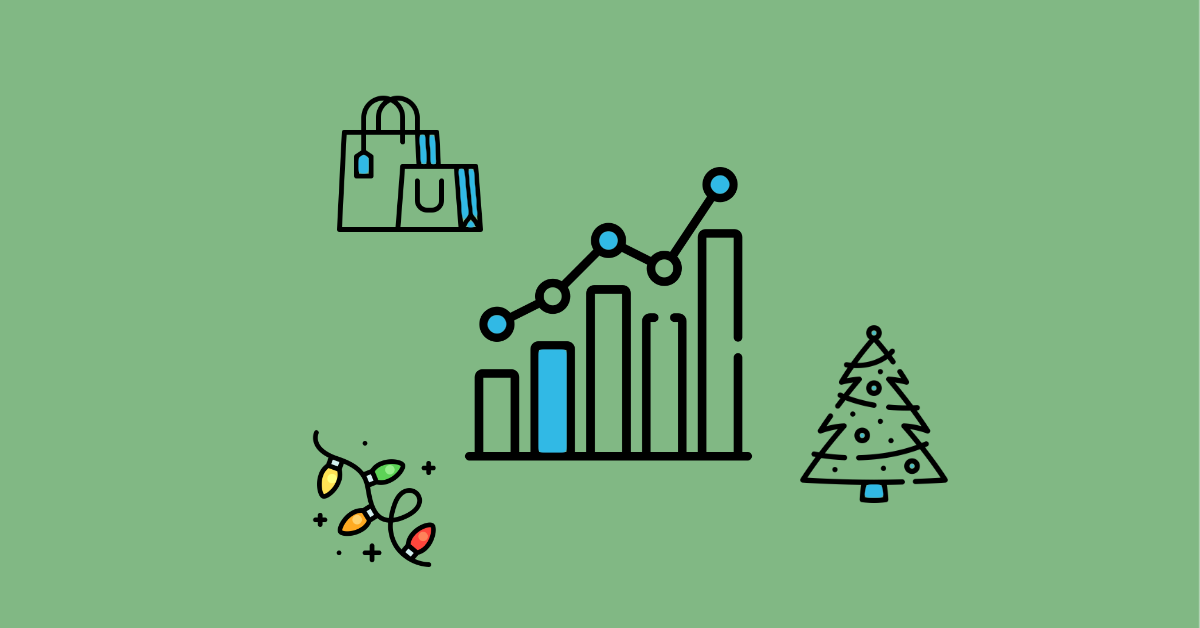 By mid-October, UK consumers had on average 24% of their Peak shopping completed
Feels a little crazy doesn't it? Maybe it's just because I'm sadly not that organised when it comes to Christmas, but to think that by mid-October people have already completed a quarter of their Peak shopping blows my mind a little.
At Google's Retail Ready Live event they shared this graph showing the percentage of holiday purchases completed throughout Q4.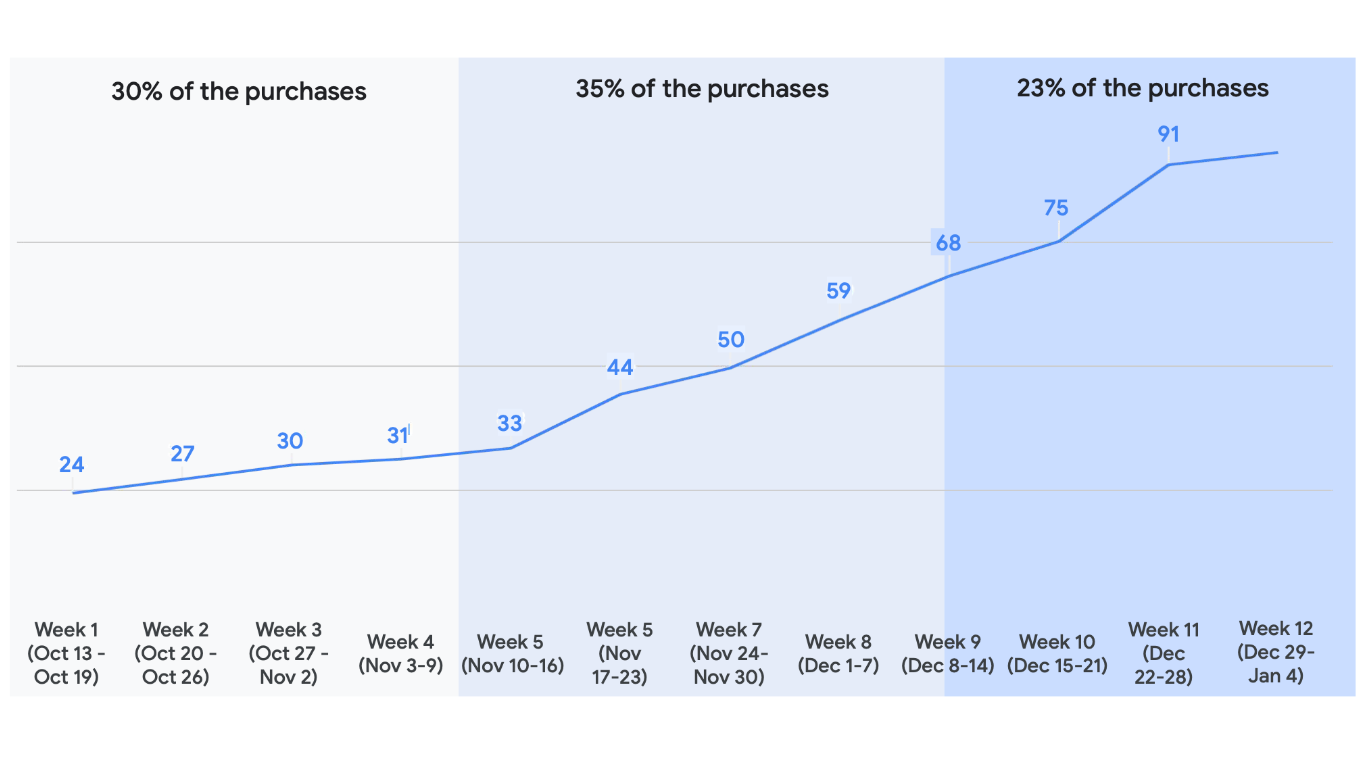 Source: Google/Ipsos, Holiday Shopping Study, Oct 2022 – Jan 2023, Online survey
It's not uncommon for advertisers to launch their Black Friday/Christmas campaigns early in November, but by doing this you're potentially missing out on 30% of holiday sales. That's huge.
What about those who don't start their campaigns until Black Friday week? That figure goes up to 50% 😬
Here at Platypus, we started testing Christmas messaging in ads as early as September and guess what? Ads with Christmas messaging showed some serious ROAS increases—as much as 89% higher than their non-christmassy counterparts. Yep, in September 🤯
If you're having trouble convincing the team that you should've launched your holiday activity yesterday, here's some more gold nuggets from Google for you.
In a Google survey done in Q3, people who indicated they'd already started their end-of-year holiday shopping were asked what kind of shopping activity had they been doing. 16% of these had already made a purchase and almost half were looking for gift ideas and inspiration. What's more, just over a third had started putting together a gift list. All this, in Q3.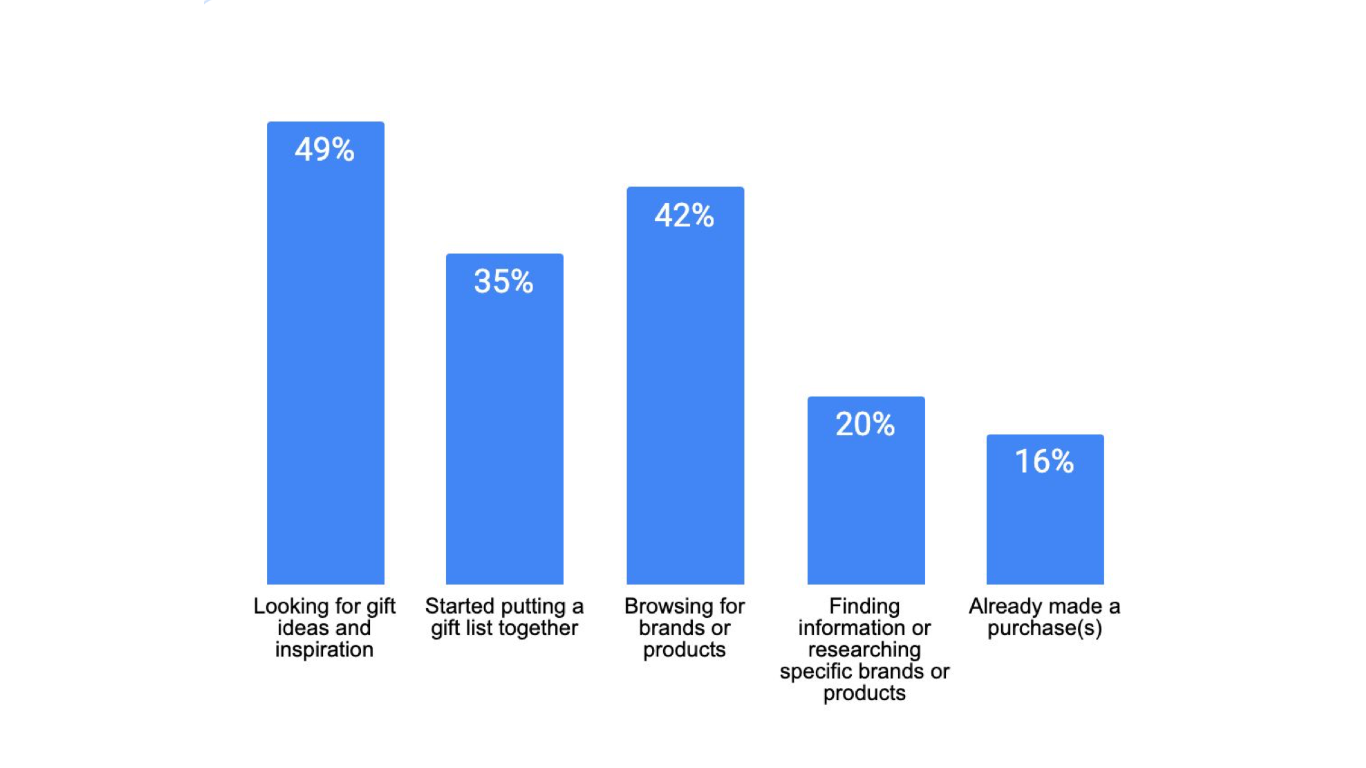 Source: Q3. (T2B Summary) How much do you agree or disagree with the following statements? Google commissioned Ipsos Consumer Continuous, UK
With a significant portion of UK shoppers being affected by cost of living, it's not surprising to hear that 50% of early Peak shoppers say they started their shopping earlier to spread out their spending. Giving shoppers options when it comes to spreading the cost could be the difference between getting the sale or losing out to a competitor this holiday season. And goes without saying, the earlier you offer options the lower the monthly payments will be making the offer more attractive.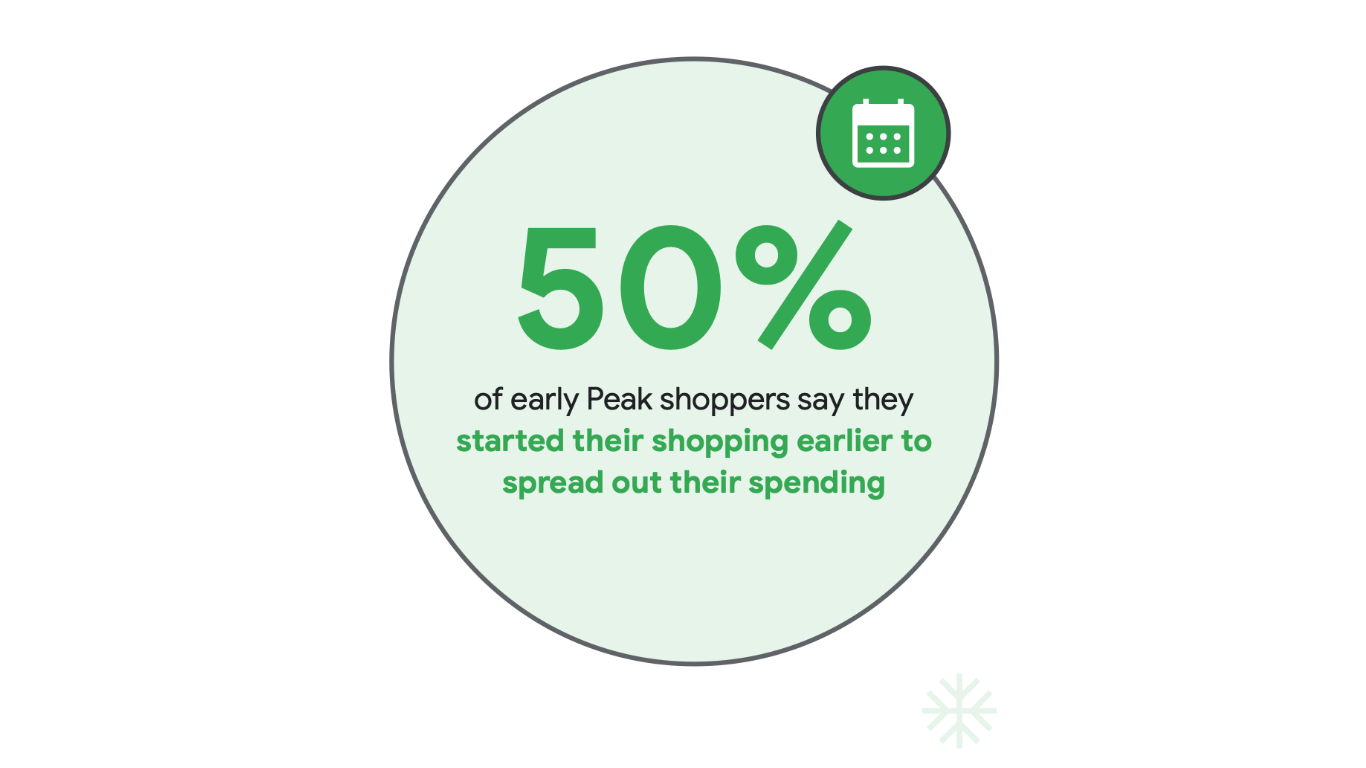 Google/Ipsos Essentials Survey, Sept 8-12, Started Early shoppers
In February 2023, only 14% of people had few changes to their spending due to the Cost of Living crisis, with the remaining 86% adjusting their purchasing habits.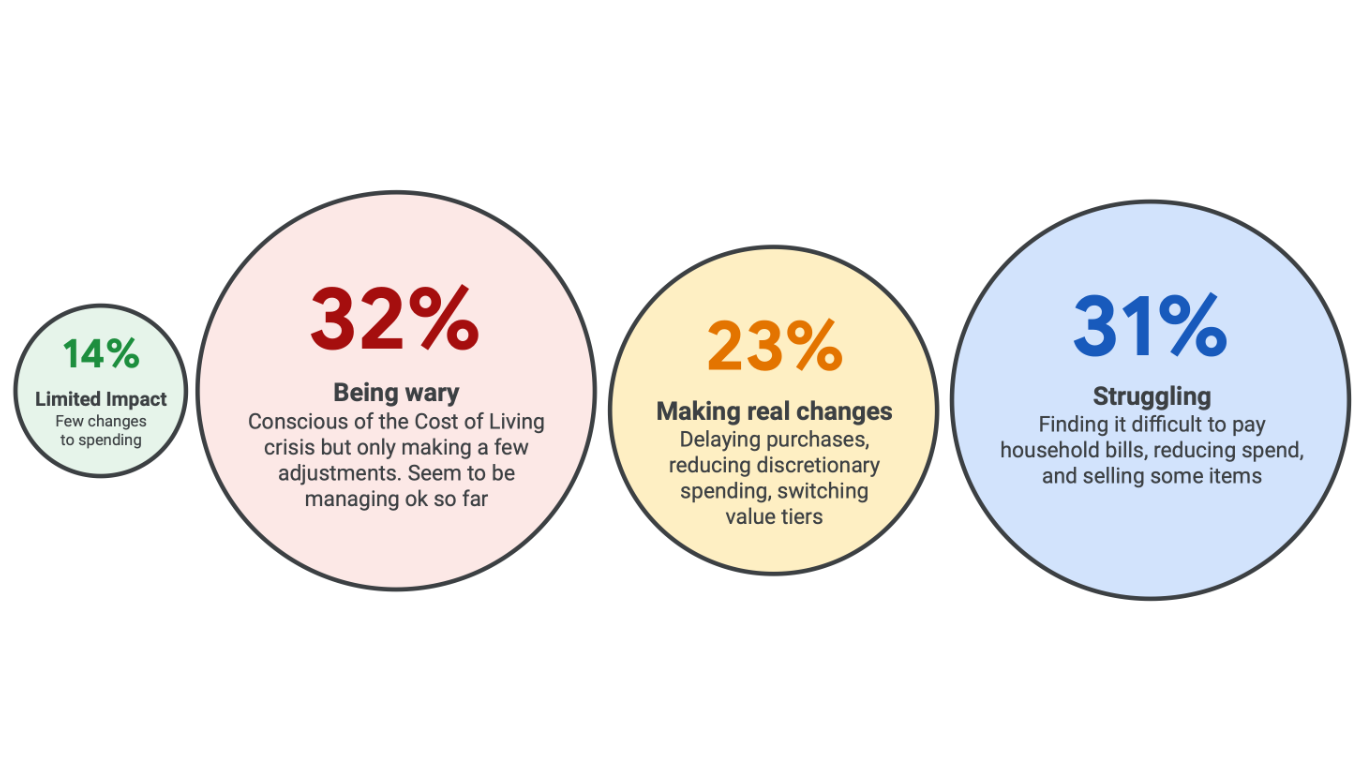 Source: Google / Trinity McQueen, February 2023 UK
At Retail Ready Live, Google spoke about this being the most predictable Peak we've had in several years. In line with last year, it's likely that we'll still see shoppers being a little more conservative this holiday season. So go take a deep dive into last year's data and have confidence in forecasting performance from it. Of course there'll be nuances, but for the most part performance trends will likely be very similar.
So what should Q4 look like?
To ultra-simplify it: 
October – capture their attention
November – focus on gift-giving
Early December – last-minute shoppers
Late December – it's self-gifting time
October is a great month for capturing attention
Whilst non-branded searches are still at a high (making up 65% of all searches in Oct 2022) as people shop around, now's the time to show off your brand. Be helpful, build trust, share what you have to offer. Bonus points for those educating and entertaining using the products/services they plan to discount during Black Friday week, especially if 1-2 months is the sweet spot from people discovering you to purchasing 💁‍♀️
Source: Google Internal Data
In November, brand searches jump up to 40% indicating people are more set on a particular brand. Hence why the branding legwork in October is important. It's much easier to convince people you're the right solution when they're open-minded in October, compared to when they're searching for your competitor in November.
November is for the gift-givers
Another big chunk of holiday shopping is done in November, with 50% of holiday purchases expected to be completed by the end of the month. It's a slow burn with not much movement in the first half of the month but this is more than made up for with almost 20% of all holiday purchases happening in the second half of November.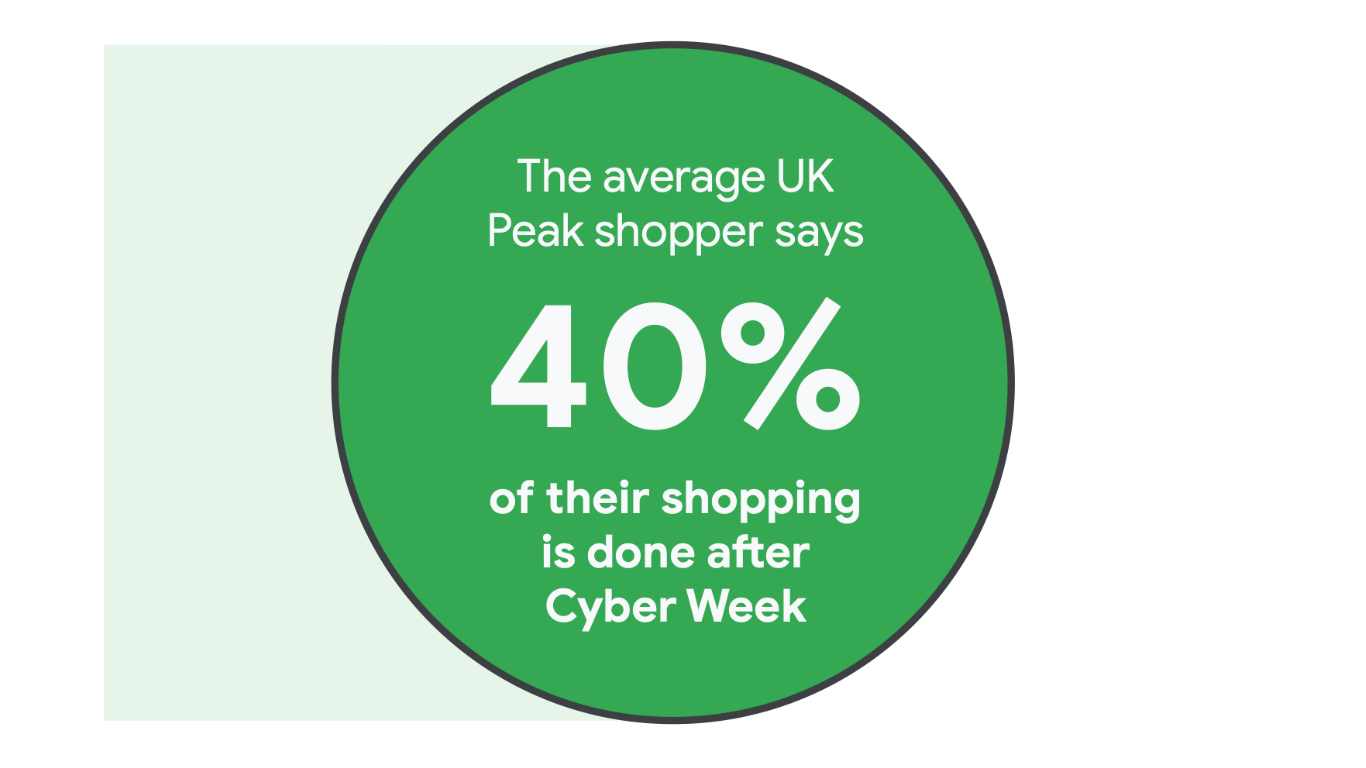 Source: Google/Ipsos peak Study
December is a combination of last-minute + self-gifting
There's no slowing down in December. Keep those budgets high as the average UK Peak shopper says 40% of their shopping is done after Cyber Week. It's a great time to push urgency messaging as postal deadlines hit, go for gift card or digital options in those last few days before the big man arrives 🎅 and of course, tap into emotions as the focus turns to self-gifting.
Don't forget about January and beyond
One of my favourite things about Peak is the influx of data that comes with it. If you haven't already, sit down and map out how you can leverage the data from Peak (product, website, audience etc) in January and beyond. If you have a solid plan on how you might use data for the next 1, 2 or even 6 months, you'll be able to setup those audiences or tags to help you later on down the road.
Haven't started implementing your Peak strategy yet?
Or God forbid you haven't even started thinking about it. Go get on it. Right now. You might have missed out on a portion of the market already, but better late than never.
Peak is so much more than throwing a few christmas + black friday keywords/ads into your account. And whilst your offer is super important, there's also so much more you can do—than just slapping on a big discount—to have a successful Q4. Capture attention early, plan the right message at the right time to align with buyer behaviour, and get creative with how you can use your data beyond Peak.
Most of all, have fun! It's the most wonderful time of the year, after all ✨
Let's Get Started
Ready to make your ad spend go further?
Visit
413 Aidan House
Sunderland Road
Gateshead
Tyne & Wear
NE8 3HU